Unique plants for year-round interest
Landscape designers take care to select plants that will provide texture, colour, contrast and beauty throughout the year.
This week's feature plants provide that year-round interest by long flowering seasons or foliage that changes colour.
Phygelius x rectus 'Salmon Leap'
This semi-evergreen variety of cape fuchsia has a long flowering season and will bloom from June to September. This plant is great source of nectar for Hummingbirds. The large flower panicles add a unique and spectacular salmon-orange colour not commonly found in other perennials.
Specs: 2' Tall & Wide, full to part sun (will flower more in full sun), average moisture soil. May be pruned to the ground in early Spring.
Combines well with: Physocarpus 'Center Glow' and Lonicera x heckrottii 'Goldflame', all available at Selections Nursery.
Berberis thunbergii 'Rose Glow'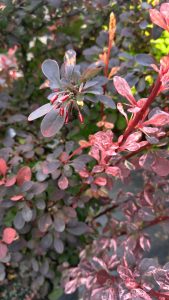 This shrub is amazing not only for its year-round interest but also for its drought tolerance. In spring you will observe the new growth change colour from orange to mottled white and pink; eventually maturing to a deep burgundy purple. The fire-coloured fall leaves and shiny red winter berries contribute to its spectacular display.
Specs: Semi-evergreen, max. 5' Tall & Wide, full to part sun, average to dry well-drained soil. 
Combines well with: Perovskia atriplicifolia 'Little Spire' and Stipa gigantea, also available at Selections Nursery