Many plants and trees lose their leaves, colour and general attractive traits in the fall and winter. This is not the case for all, here are 5 fall & winter interest plants that will provide colour, texture and unique design elements through the dark and colder months.
1. Nerine bowdenii
Nerine bowdenii is a flowering plant in the Amarylidaceae family. Common names are: Cornish lily, Cape flower, Guernesy lily and Bowden lily.  Blooms in late summer & through fall, blooms best when bulbs are not crowded.
2. Colchicum autumnale
Commonly known as autumn or fall crocus, meadow saffron or naked ladies, termed this due to the flowers breaking ground long before the leaves. Despite its beauty, this plant is toxic, especially for cats, if the fruit or leaves are ingested. As some of the common names suggest, blooms appear in autumn.
3. Sedum Sunsparkler TM 'Blue Pearl
Perfect ground cover choice for edging a path or forming a border along a sunny stretch. This is a very versatile plant that will do well in a variety of situations: mass planted on a slope, works as part of a green roof, ground cover in sunny areas, excellent choice for containers. The bulk of the plant is low, compact mound of fleshy, non-fading leaves, blueish in colour. Flowers appear late summer, and early fall and are bright pink.
4. Acorus 'Oborozuki'
Commonly known as grassy-leaved sweet flag, this perennial grass is colourful and fragrant. Acorus 'Oborzuki' tolerates wet soil and can be used in a water or rain garden, including standing water 3-4″ deep. This stunning grass can tolerate full sun or part shade and is an appropriate choice for foliage accent.
5. Echinacea 'Cheyenne Spirit'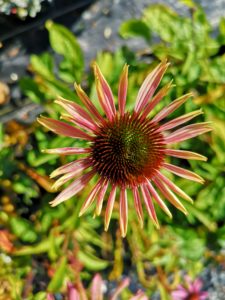 Easy plant to care for that yields large, bright colourful flowers with great texture and form. Echinacea 'Cheyenne Spirit' will attract butterflies and hummingbirds, blooming through mid and late summer into early fall.
Petals of flowers range in colour from deep pinks to orange, red or purple as well as yellow and white. Excellent for cutting, mass planting or growing in mixed containers.
This is only 5 of MANY of our favourite fall & winter interest plants. Follow along on social and we will be sharing more interesting and unique plants and trees to suggest as additions to your client's spaces to add colour, texture and accents through the fall and winter.