Our design services are provided through Selections Nursery and Design Centre and Hunter Landscape Design Ltd; both owned and operated by Bruce Hunter.
Both businesses pride themselves on creating and maintaining personable and professional relationships with their clients and connecting homeowners with landscape professionals who can take their new designs from concept to reality.
Every client's space, needs and budget are different. We will work with you to make sure our design services match the project that you envision – from simple to complex.
The Full Design Process:
Step 1 – Consultation
The client consultation is the first step in the design process. We will meet with you at your home to discuss your wants, needs and desires for your outdoor space. This also gives us the opportunity to view the existing site features and take note of any positives and limitations. We will use our expertise to relay any initial ideas and concepts for the design and, if necessary, send plant and material photos to help with the visualization process. There is a consultation fee applicable for this portion for the design process; later this fee can be applied toward the final cost stated on the Design Contract.
The contract will include the following plans and information:
Step 2 – Design
After reviewing the goals and objectives for your project, a Design Contract is written up to verify both parties agreement on the applicable fee and design package components.
The contract will include the following plans and information: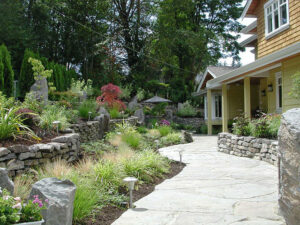 Concept Plan:
This is a layout plan showing proposed landscape features, hardscaping and planting areas. We will schedule a meeting to review this plan and discuss details such as material and plant choices. We can also discuss any revisions in preparation for the Final Plan.
Final Landscape Plan:
A final landscape plan features all components labelled including hardscape dimensions and materials (patios, arbours, small building construction like gazebos and sheds, retaining walls, etc.) and softscape areas and materials (all plant material). Plants will be labelled with common and botanical names and listed with the quantities and nursery sizes. If needed, we can also provide a rough estimate of the cost for installation of the project.
Garden Renovation Package:
This cost-effective option is for the inspired gardener seeking professional direction as they endeavor to beautify an area of their landscape. We have also found that this is a very popular option for strata properties.
This Package includes:
Consultation:
We will meet with you at your home to look at your space and discuss your hopes, dreams and vision for your garden. We will help troubleshoot any existing issues and develop suggestions to overcome them.
This consultation may also include a quick survey of any existing and proposed areas/features.
Plant/Materials List:
From the consultation process, we will develop a detailed plant and materials list which will include concept images of what was discussed. An estimate for the cost of all plants and materials (as well as delivery) will also be included.
Nursery Visit:
At any point during the process, we encourage you to visit the nursery to not only view some of the plants/materials that we have in stock, but to also see the plants/materials we have chosen for you in an up close and personal setting. These meetings can help us both solidify a plant list for your garden and allow us to dive into your likes and dislikes.
Contractor Referral (optional):
If you would rather have a professional complete the work on your garden renovation, we would be happy to connect you with a trusted landscape contractor.
Optional Services:
Landscape Layout/Sketch:
If you would like us to sketch up or draft a labelled drawing of your proposed layout, we would be happy to provide you with one. This work would be quoted separately (per hour) and be based on the complexity of the project.
Plant Layout:
Once the plant list for your garden is finalized and planting areas have been prepared, we will pull your order, deliver your plants and lay them out for you in your landscape to prepare for planting. They will be spaced out according to their mature size and placed in a way that is functional and aesthetically pleasing.